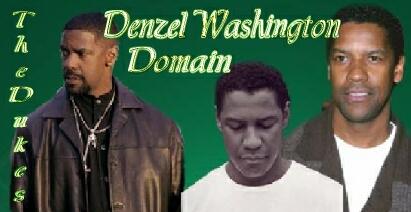 One of Hollywood's hottest leading men, Denzel Washington is an actor whose poise and sexy intelligence permeate whatever film he is in, be it socially conscious drama, comedy, or suspense thriller.
The son of a Pentecostal minister and a hairdresser, Washington was born in Mount Vernon, New York on December 28, 1954. His parents' professions shaped Washington's early ambition to go into show business: from his minister father he learned the power of performance, while hours spent in his mother's salon listening to stories gave him a love of storytelling. Unfortunately, when Washington was fourteen, his parents' marriage took a turn for the worse, and he and his older sister were sent away to boarding school so that they would not be exposed to their parents' eventual divorce.
Washington went on to college, attaining a B.A. in Journalism from Fordham University in 1977. He still found time to pursue his interest in acting, and after graduation he went to San Francisco, where he won a scholarship to the American Conservatory Theatre. Washington stayed with the ACT for a year, and, after his time there, he began acting in various television movies and made his film debut in the 1981 Carbon Copy. Although he had a starring role as the illegitimate son of a rich white man, Washington didn't find real recognition until he joined the cast of the long-running TV series St. Elsewhere in 1982. He won critical raves and audience adoration for his portrayal of Dr. Phillip Chandler, and he began to attract Hollywood notice. In 1987, he starred as anti-apartheid activist Steve Biko in Richard Attenborough's Cry Freedom, and his powerful performance earned him a Best Supporting Actor Oscar nomination.
Two years later, Washington won that award for his turn as an embittered yet courageous runaway slave in the Civil War drama Glory. The honor effectively put him on the Hollywood A-List, a place Washington managed to retain even as he appeared in films of wildly varying quality over the subsequent years. Some of his more notable work came from his collaboration with director Spike Lee; over the course of the 1990s, Washington starred in three of his films, playing a jazz trumpeter in Mo' Better Blues (1990), the title role in Lee's epic 1992 biopic Malcolm X (for which he received a Best Actor Oscar nomination), and the convict father of a high school basketball star in He Got Game (1998).
Washington also turned in powerful performances in a number of other films, such as Mississippi Masala (1991), in which he played a man in love with an Indian woman; Philadelphia (1993), in which he portrayed a homophobic lawyer who takes on the cause of an AIDS-stricken man (Tom Hanks); and Devil in a Blue Dress (1994), which cast him as a 1940s private detective. Washington also proved himself believable as an action star, with the success of such thrillers as The Pelican Brief (1993), Crimson Tide (1995), and The Siege (1998) attesting to his capabilities. In 1999, Washington starred in another thriller, The Bone Collector, playing a paralyzed forensics expert who joins forces with a young policewoman (Angelina Jolie) to track down a serial killer. That same year, he starred in the title role of Norman Jewison's The Hurricane. Based on the true story of a boxer wrongly accused of murdering three people in 1966, the film featured stellar work by Washington as the wronged man, further demonstrating his remarkable capacity for telling a good story. His performance earned him a number of honors, including a Best Actor Golden Globe and a Best Actor Oscar nomination.
After giving another strong performance as a high school football coach in Boaz Yakin's Remember the Titans, Washington went against type to play a corrupt policeman in Training Day, Antoine Fuqua's gritty cop drama. Washington surprised both audiences and critics with his change of direction, although more than a few noted this change of direction made him a more compelling screen presence than ever in addition to earning him an Oscar for Best Actor.
Rebecca Flint, All Movie Guide
---
Free JavaScripts provided
by The JavaScript Source